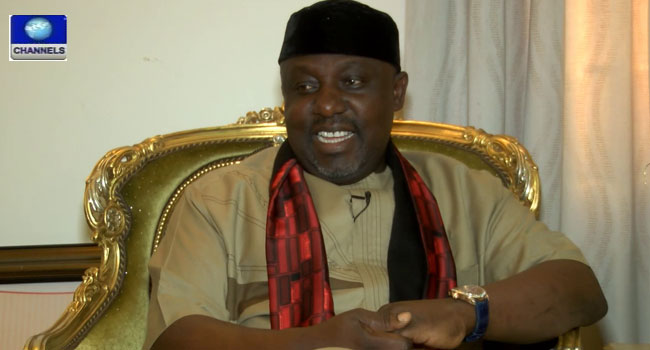 Governor Rochas Okorocha of Imo State, has raised alarm that Human Immune Deficiency, HIV, virus infection was increasing in geometric proportion in the state.
Okorocha raised the alarm yesterday, while addressing journalists in his Spibat Road palatial residence, Owerri. "Hotels are increasing in Owerri, at a very fast rate. In the same way, HIV is increasing in Imo, courtesy of the increasing number of hotels in the state", Okorocha said.
While saying that "there is no hotel in Owerri that is not filled to the brim, especially at weekends", the governor however urged parents and guardians to caution their children and wards on the dangers of the scourge. Chief Rochas Okorocha "Night life has no doubt, improved in Owerri. We will continue to light the streets. We should however remember that the situation carries with it, a collateral danger like HIV and this is why we should be very careful", Okorocha said.
Going into other state matters, the governor wondered why people never get to know the good things he has been doing in the state. "I gave churches the sum of N450 million for the upgrading of facilities in mission schools, but the story was not told anywhere. This is not fair at all", Okorocha said.
While warning that all local government workers that never made 10 percent attendance at their places of assignment, must be offloaded, the governor also said that he was "prepared to absorb all the blame, but the right things must be done."
On the vexed issue of free education in the state, Okorocha agreed that most schools outside Owerri municipality were in bad shape. "Government is hereby, declaring a state of emergency in our school system. All schools outside Owerri are in very bad shape and we can't allow this to continue", the Governor said.
According to Okorocha, "my administration has spent over N60 billion on our free education programme and we have no plan to stop the policy".
Continuing, Okorocha said that the renovation of schools in the oil producing local council areas of Oguta and Ohaji/Egbema will gulp N1 billion.